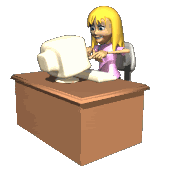 Websites Post #2
Creating a website is a big decision, especially if you're an unpublished writer. It's also a huge commitment of your time. I went into this process thinking it would take me a couple of weeks and I'd be up and running. I was dead wrong.
In June of 2007, I started my web building process by surfing other author sites. This is where being a member of GRW was a huge help. I'd made contact with quite a few published authors at the monthly meetings and I felt comfortable that these people would be the perfect place to start with my research. Under GRW's published authors' page, I was linked to most of their sites. I was also able to link to other unpublished authors' sites under the PRO page. Although I hadn't thought of it before, the PRO sites were actually more helpful to me because I was able to get an idea of what other unpublished writers were posting on their sites.
I have to admit this step was actually pretty fun. I created a folder under my Favorites Section on the internet and bookmarked the ones I liked the best and those that fit the style I happened to be writing. I also checked out the 'Links' or 'Favorites' pages. Through these, I was able to find some really cool resources; but best of all, I was able to find the webpage to some of the web designers who created the various sites.
Throughout this process, I kept a notepad and jotted down ideas of how I wanted each of my pages to look. Each time I found something that caught my eye, I would add a little note describing it and where I found it.
Because I was working a full-time job, it took me a few weeks to get through this process. But by the middle of June, I had a basic idea for four pages and what I wanted on each page. I had a theme and color scheme in mind and ideas for pictures I wanted. I'd spent hours in front of my computer typing a BIO page that I felt reflected who I really was and a welcome page that portrayed the genre I write in. With this in hand, I felt certain I was well on my way. Of course, I was wrong again.
Although I had a long road yet to travel, this was a great way to get started. For those people who are riding the fence on whether or not to publish their own websites, I highly suggest you consider doing at least this much if you plan to pursue publication. Not only does it give you a small leg up if you should receive 'The Call,' but it also helps you to get a better grip on figuring out where your style of writing might fit into the world of romance.
GETTING STARTED– For those people thinking about creating their own website, start with these two steps. If you are not a member of a specific organization, check out my website at www.tamibrothers.com and click on my Favorites page. Check out some of the authors I've linked to and get an idea of where you want to go with your own site. Then pick up a pencil and start designing. You don't have to be an artist; you just have to have a basic idea.